When you come from a family of bibliophiles, deciding upon your top ten favorite books feels a little bit like Solomon's Dilemma. I've read over 1300 books in my lifetime (at least that's what I can remember and put on Goodreads…), so I had to put a lot of thought into my top ten list. I LOVE beautiful, rich, deep, complex language. If there's one thing that threads throughout all of my top ten, it's the beauty of language and the art of a story well-told.
As Leah mentioned in her Top 10 List, we decided to focus on the books that in some way shaped or transformed our lives. Ranking these ten books amongst themselves would be even more impossible than choosing them in the first place, so they are arranged in chronological order. They are all worth-while reads, even the ones that require tapping into your inner child (a practice which I heartily support doing on a regular basis!).
(1) Many Moons by James Thurber. This beautifully illustrated picture book is about a small, sick princess, whose father desperately wants to give her the one, impossible thing that she asks for: the moon. It's a sweet, whimsical story, as the king scrambles all his wisest men to figure out how to solve the problem. Finally, it is the Court Jester who is able to look at the problem sideways to realize the solution. Besides enjoying the cleverness of the story (and of course the central character being a princess), it was the first experience I had as a child with thinking deeply about how other people's perspectives influence their actions and belief. (It was not until much later in life that I realized it was written by THE James Thurber. #TheThingsYouMissAsAKid)
(2) Shadow Castle by Marian Cockrell. Shadow Castle lived on a dark shelf in the back reaches of my paternal grandmother's house, next to a single decrepit copy of The Long Winter by Laura Ingalls Wilder and a thousand antique car manuals of no interest to small girls. When my father's sister moved out of her parents' house, she took most of her childhood books along with her, but for some mysterious reason, these two castaways were left behind.
My older sister and I must have read Shadow Castle a dozen times in our young childhood, first out of boredom, and then out of the deepest love for its story. It was the very first fantasy novel that I ever read. When my grandmother died, the book mysteriously disappeared (likely back to the aunt to whom it belonged), but the haunting story of Prince Mika of the fairies and his mortal wife Gloria stayed with us. The book is just the right amount of chilling and magical and whimsical. It is endlessly re-readable.
(3) A Little Princess by Francis Hodgson Burnett. I read this classic story at a very impressionable period in my life (around 9 or 10), when I first started thinking deeply about the kind of person that I wanted to be. Sara Crewe was my role model (which one could only hope goes for so many young ladies over the years). I remember thinking to myself that if Sara could still be kind and gentle and sweet through all her tribulations, I could bear the struggles of my own life. Some 90s kids relied on WWJD; I asked myself WWSCD? More importantly, A Little Princess cemented my deep seated love of Edwardian fiction. (Note: Don't watch the movie version; it's incredibly terrible and not at all accurate to the book.)
(4) Ender's Game by Orson Scott Card. All his crazy political stances aside, no one has ever written gifted children characters better than OSC. My sisters and I tore through this story and discussed it for endless ages. Valentine Wiggin is my complete spirit animal. I don't think there's probably any better character in all of fiction that so perfectly matches my personality. (Thankfully our older sister is not like Peter.) There's a loneliness that is inherent in being different, one of many concepts that Ender's Game explores on a deep philosophical level. It resonated with the three of us.
To be truthful, Ender's Game has lost a little of that sense of wonder as I grow older, but there is still something there to remind me of that feeling of reading someone so completely understand the way that you think. And besides that, it is a super well-crafted story with some really amazing characters. If you like Ender's Game, it's worth reading the extended series that feature both Ender and Bean. (And the recent movie adaptation was pretty enjoyable too.)
(5) Siddhartha by Hermann Hesse. You owe it to yourself to check this book out from your local library. It's one of my favorites for being one of the first stories I read that featured Hinduism/Buddhism, but also for showcasing the transformation that a single soul can experience in a lifetime. I love the progression that the main character undergoes as he answers that deeply-seated human question about the purpose of life. The protagonist, much like young men and women everywhere, goes through life learning what it is to be human and the experiences that must go with it. It drives home that life is better off lived rather than viewed from the sidelines. (Of course this story is a fictionalized version based on the life of the Buddha, so I do recommend going to actual religious texts for your wider perspective on the life of the Buddha.)
(6) Wide Sargasso Sea by Jean Rhys. I have always been a sucker for fractured fairy tale: the retelling of a classic story from a different perspective. Wide Sargasso Sea is perhaps one of the most mellifluous versions of the "retelling the classic story" genre. Based off of Jane Eyre, it takes place in the Caribbean islands and tells the story of the "mad wife" Antoinette/Bertha. It is a superbly, beautifully written story, with some of the loveliest scene setting that I have ever read. It's also the evocative perspective of a person descending deeper into madness. Is she driven there? Is she simply destined? In whose hands lies her future?
(7) Crime and Punishment by Fyodor Dostoyesvsky. I read Crime and Punishment at a very difficult time in my life. Dostoyevsky describes the human condition in a way that is unparalleled; it is understandable only to those who have suffered and felt the deepest weight of the world. No one writes heavy and deep in quite the same way as the great Russian authors. I mean, check this beauty out: "A special form of misery had begun to oppress him of late. There was nothing poignant, nothing acute about it; but there was a feeling of permanence, of eternity about it; it brought a foretaste of hopeless years of this cold leaden misery, a foretaste of an eternity 'on a square yard of space.'" Like most Russian novels, it's a thick story, but the narrative is so compelling. It's full of these nuanced, complex characters (with the exception of Sofia, who I feel is held up as a paragon of poor virtue in a fairly two-dimensional way.) Like many of my favorites, it's a deep study about the nature of being human. What is the line which we cannot cross? To what extent must we choose to take self-ownership of our actions? What punishment is fit the most malicious of crimes? Is our own self-imposed punishment its own trap?
(8) The Meaning of Night by Michael Cox. This is a relatively new historical novel, which is exactly the sort of book that I love: dark, intense, historic, psychological. It had elements that reminded me of The Count of Monte Cristo (an additional favorite that I was unable to add to this list…) and Crime and Punishment, but with a smart, eloquent writing style like the cleverness of Sir Arthur Conan Doyle meeting the dark, brooding atmosphere and tone of Charlotte Brontë. It's a classic example of the unreliable narrator driving the force of the novel. The protagonist, Edward Glyer/Glapthorn/Dupont is as complex a character as one could wish. He is so caught up in a twisted world of revenge and self-loathing that he misses entirely that there is a second, better path. (Imagine Edmond Dantès without the amassed wealth and security, or the lovely girl who takes his hand in the end and helps him to let his revenge all go.) Ultimately, this is a tale of revenge and heartbreak of the most acute kind. Edward is smart, thorough, dedicated, but descends into a world soon consumed by his what-ifs. (It also has one of the BEST opening lines of all time: "After killing the red-haired man, I took myself off to Quinn's for an oyster supper.")
(9) The Great Gatsby by F. Scott Fitzgerald. I save this classic for next-to-last because it's probably my favorite book of all time. If I could have just one book on my desert island, it might be this one. (That or "How to Build a Boat from Coconuts.") Nick Carraway is an unflinching narrator, the witness to the worst carelessness of the people around him. Gatsby himself is one of the most unique characters in literature; the pathos-inspiring self-made man who clings to the past. The language is just so beautiful; the story so tragic in its commentary on the worst of human nature. It is ENDLESSLY quotable. "I was within and without, simultaneously enchanted and repelled by the inexhaustible variety of life." (I surprisingly enjoyed the Leonardo deCaprio version of this movie; he made an excellent Gatsby.)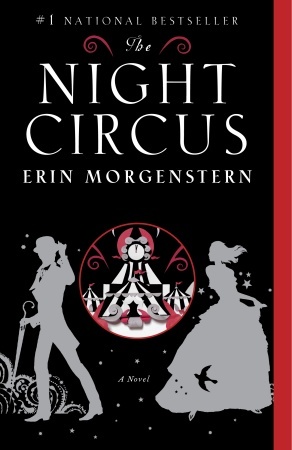 (10) The Night Circus by Erin Morgenstern. Like The Meaning of Night, The Night Circus is exactly my type of book. It's one of the most breathtaking, well-spun stories of the modern era. I just love the idea of a magical circus that only appears at nighttime and is a challenge between two magical schools of thought… there's nothing not to love. At its heart, it is a love story, but it's also delightfully fun.  I still want a Night Circus-themed birthday party, complete with contortionists, fire-breathers and everything monochromatic  (upcoming 30th, anyone?).
Honorable Mentions: The Count of Monte Cristo by Alexandre Dumas; Pride and Prejudice by Jane Austen; A Girl of the Limberlost by Gene Stratton Porter; The Distant Hours by Kate Morton